Among all the great women of the planet who have achieved change for the better, it is surely fair to mention one of the most iconic women in Russian history, Empress Catherine the Great.
Beyond doubt, she is far and away a legend and a notable Russian leader: the time of her reign is described as the Golden Age of the Russian Empire. In this piece, we would like to pay tribute to the accomplishments of Catherine II and share interesting facts about her life.
Catherine the Great: Biography & Facts
Catherine the Great's biography has different shades, not to mention a knotted family tree. Until this day there are many debates around Catherine's persona: was she a cruel lecherous string-puller that seized the throne by means of loaded dice? Was she just a mourning mother trying to restore justice? Or was Catherine simply so crazy about Russia that she sincerely dreamed with all her heart of the prosperity of the Russian Empire?
No matter how disputable her life was, you can't hide the facts, it is her merit that the cultural and political life of the Russian Empire of that time had risen to a never-before-seen level and kept apace with Europe.
She was born on May 2nd, 1729 in Szczecin (present-day Poland) in a quite poor family of nobles and carried the name Princess Sophie Friederike Auguste of Anhalt-Zerbst. Common for children with such a background, she was homeschooled and showed a specific interest in languages and could speak Italian, French, and English apart from her native German.
At the age of 15 she was invited to Russia with her mother by a distant relative, Empress Elisabeth of Russia. Upon arrival, she engaged in studying the Russian language, local traditions, history, and religion. Despite her father's disapproval, the girl accepted Russian Orthodoxy and received the name Catherine, full name - Ekaterina Alekseevna.
Quick Facts about Catherine the Great:
Born in Szczecin, on May 2nd, 1729;
Full birth name: Princess Sophie Friederike Auguste of Anhalt-Zerbst;
Married Peter III in 1745;
Children: Pavel and Anna;
Died in Saint Petersburg, on November 17, 1796.


Husband & Children
The following year, in 1745, at the age of 16 she married Elizabeth's son, Peter III, future Emperor of Russia, with whom they had two children, Pavel and Anna, and spent most years of their marriage living in Russia in the Oranienbaum Palace.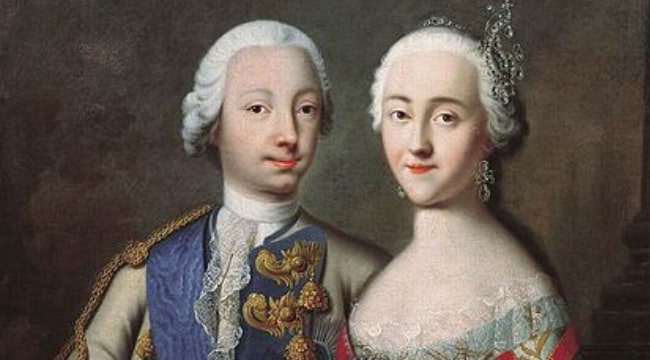 It is said that Peter and Catherine weren't close. Moreover, both had relationships on the side and, at some point, neither of them even bothered to hide it from each other nor from the rest of the society. Catherine dedicated much of her time to self-education and read many books.
Because of the constant fuss the couple had in the royal house, Catherine's son Pavel, a successor to the throne, was taken away from her almost right after his birth and she wasn't allowed to see him. Sadly enough, her younger daughter Anna passed away at an early age.
How did Catherine the Great become empress?
The intrigue began when Catherine's husband Peter III ascended to the throne after the death of his mother, Empress Elisabeth. Catherine and Peter soon moved to royal Peterhof, but their relationship started to get even more intense, to some extent even hostile. Tsar Peter III would appear in public with his mistress Elizaveta Vorontsova and the threat of Catherine getting sent to exile by her husband emerged.
Surprisingly Peter's reign wasn't long, only a mere 6 months. He wasn't a favored leader and the people openly liked Catherine more than him. Curiously enough, it was none other than Catherine that had a close-in hand in the tragic sequence of events that led to her husband's assassination.
Capable of conspiracy, she used her husband's unpopularity among the military against him and quickly gained their support. She had a plan on how to cast Peter from the throne and several trustees who helped her organize a palace revolution and seize power. As a result, Peter III abdicated the throne, was arrested, and soon died in custody under unknown circumstances. Two months later Catherine the Great was officially crowned as Empress of Russia.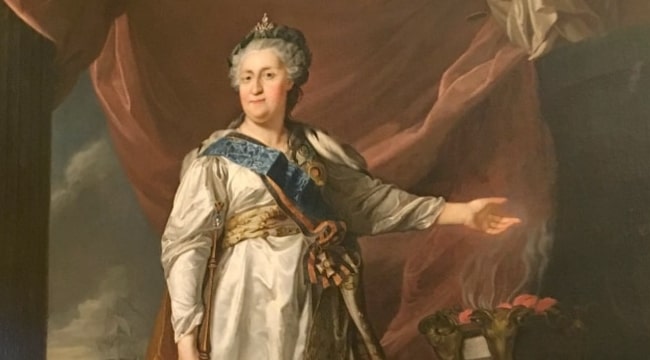 Empress Catherine the Great Achievements
Of all Russian female leaders, Catherine II has reigned longest, a total of 34 years. She had colossal support from the people and the years of her reign are believed up till this day to be among the most significant periods of Russian history, often referred to as "the Golden Age of the Russian Empire".
One of her main aims was reaching general welfare and it was she who ordered land reclamation in places like the Urals and thus territorialized the Russian Empire to the largest expanses it has ever had before that time, adding a total of 11 new provinces to the empire.
The monarchess had implemented reforms, conducted the policy that catered to the needs of all social classes, developed trade with Russia and multiplied the number of manufacturing plants by two. Moreover, she pulled the empire out of a financial swamp and took care of the financial debts before the army by taking possession of the lands that previously belonged to the church.
She was a prominent Empress and even managed to suppress the peasant revolt led by Pugachev and to even lead wars. Catherine also founded the Academy of Russia that became one of the leading educational places in Europe.
Apart from her unquestionable power, Catherine II had many places redesigned to her liking. As such the lush royal Catherine's Palace, home to the world-renown Amber Room in the Tsarskoe Selo in Pushkin, was rebuilt to Catherine's taste when she came to throne. The exterior of the palace was changed and fancy parks surrounding the palace were founded on her order. By the way, this unique travel destination is one of the favorites places among travelers while on Russian tours.
The Empress died in the age of 67. By far Catherine the Great is an unrivaled female ruler of the 18th-century and there are many points of interest connected with her life that can be explored during tours to St. Petersburg. As such, her tomb is located in the Peter and Paul Cathedral in the Peter and Paul Fortress in St. Petersburg.