As the saying goes, if you have only seen New York, then you haven't seen the United States. Our destination specialists believe that the same goes for grandeur Russia. If you have only been to Moscow it doesn't mean that you've really seen Russia. the Golden Ring tour is that second half of the coin you need to have in order to see the full picture of Russia.
Why is the Golden Ring of Russia special?
Some of our travelers say it is like going back in time. And it is partly true. This is a very unique and rewarding route, featuring the medieval towns of the Russian province with an astonishing number of churches and monasteries. The cities of the Golden Ring escaped most of the urban progress. Many local communities there still live in a traditional way of life in rural towns, and proudly display its past.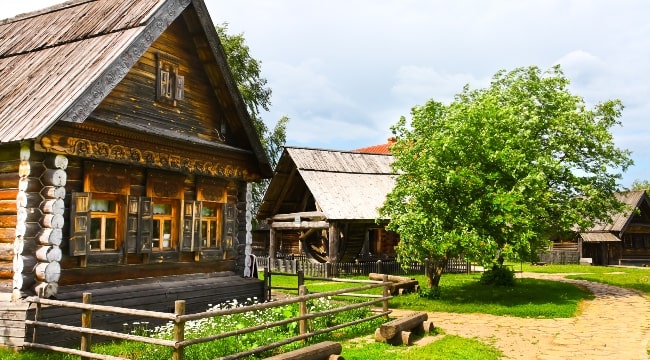 When describing gold jewelry, we often use such adjectives as bright, radiant, glowing! Well, we might disappoint some of you, the Russian Golden Ring is nothing like that. You won't find sparkling and glittering buildings on every corner. There are many masterful churches filled with rare frescoes and icons, but you might find that the most rewarding things about this trip are the history of Russia, honest people, and their traditions.
You will be traveling to cities unspoiled by modern industry, with a unique atmosphere and Russian Empire spirit, stay in unique-style hotels and try fine authentic Russian cuisine. The Golden Ring consists of many UNESCO-listed monasteries, gold-topped cathedrals, medieval wooden houses, and a range of historical monuments. But there is no official list of Golden Ring towns. Nevertheless, these 5 are the ones that most often land to our travelers' itineraries for Russia: Suzdal, Vladimir, Kostroma, Yaroslavl, Sergiev Posad.
The Main Golden Ring Cities:
Sergiev Posad
Yaroslavl
Kostroma
Vladimir
Suzdal
Ivanovo
What not to miss in Russia's Golden Ring?
Suzdal is known as a city-museum of the Golden Ring filled with churches and tiny wooden houses. Wonder why it has no modern architecture and no tall buildings? The Soviet Union ordered to avoid any modern buildings to keep it appealing to travelers. No wonder today it is one of the most visited locations of the Golden Ring.
You will be pleasantly surprised by Suzdal's centuries-old architectural complex of the Kremlin and a living museum "Museum of Wooden Architecture and Peasant Life".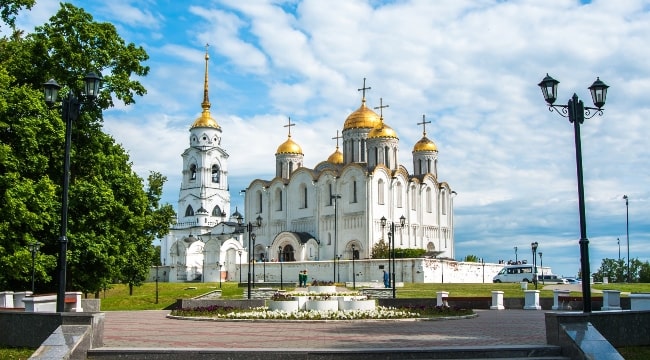 It is very convenient to go to Vladimir on the same day as Suzdal. An hour or so is enough to see the most of its landmarks.
It is one of the oldest Russian cities, and the main attractions of Vladimir include going through the famous Golden Gate, visiting the Sobornaya Square, as well as Vladimir's breathtaking St. Dimitry's and Assumption cathedrals.
As for other places to put on your Golden Ring itinerary, Kostroma is a truly Russian city with a deep history and strong traditions. Once an ancient trading town, now it is a destination people choose to visit for its impressive sights. The Monastery of the Epiphany with a glorious frescoed cathedral is one of Kostroma's main draws.
Moreover, knowing that Kostroma is the "cradle of Romanov dynasty" and "home of Snegurochka" (the grand-daughter of Russian Santa Klaus) gives it extra special light.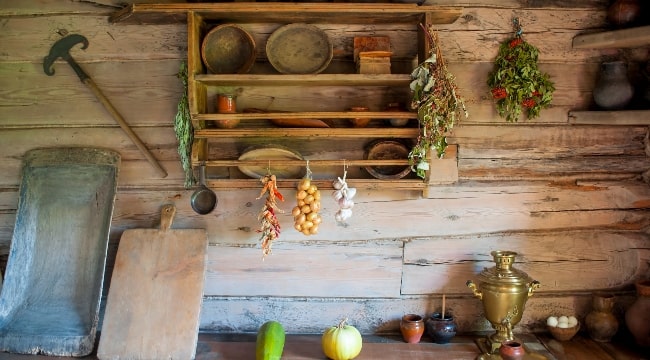 One more town worth a visit is Yaroslavl, located on the high bank of the Volga River. It is another town in the Golden Ring that will surprise you with its vast collection of monasteries, cathedrals, churches.
Actually, you will see some of Yaroslavl no matter you want it or not for a very simple reason, it's on the 1000 Ruble bill! The note depicts a statue of Yaroslav, and its Bell Tower and Church of John the Precursor.
Another city we advise to go to is Sergiev Posad, known as the "Russian Vatican" for its magnificent blue and golden cupolas scattered all around the town. Yes, this is exactly how we describe it in our itineraries! Culture lovers cannot miss its traditional white stone architecture, Orthodox cathedrals, and the stunning Trinity Monastery of St. Sergius.
Facts About The Golden Ring:
Vladimir city has been the capital of Russia for almost 150 years.
The most trendy beverage in Suzdal is medovukha – a drink consisting of honey and yeast.
Sergiyev Posad annually holds the St Sergius Skies hot air balloon festival.
The Trinity Lavra of St. Sergius in Sergiyev Posad has the most massive functioning bell in Russia.


How long to stay & how to travel the Golden Ring?
With knowledgeable guides, you would need from 2 to 5 days to visit the Golden Ring's most spectacular locations. If you only have a few days to spare for the Golden Ring cities, we can easily arrange day-trips from Moscow.
That said, it is not a problem to visit just a few cities in the series. You can travel the circuit by trains and buses, but the most convenient way is to travel by car or book an organized tour that offers convenient transportation.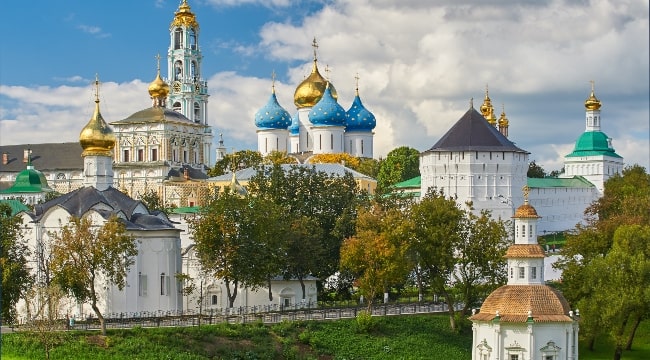 Our travelers travel by comfortable minivans, you can find all the advantages that Travel All Russia offers here.
As such, Moscow's most popular day trips are to Sergiev Posad, Rostov-Veliky, Vladimir, and Suzdal. If you have 2 days to spare, you can conveniently combine Vladimir and Suzdal.
How Long To Stay?


With knowledgeable guides, you would need from 2 to 5 days to visit the Golden Ring's most spectacular locations.
When to go to the Golden Ring?
The very peak of the high travel season in Russia is from early May till late September. Russian climate is unpredictable, but these months are the top ones that we select for our small group tours and offer to travelers going with a private customizable itinerary.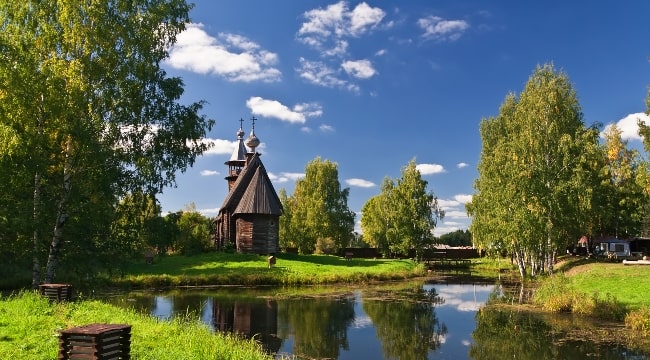 It is warm and sunny during the summer months, and the spring months grant you with rolling green fields and flowers. This is the perfect time for a tour to Russia, and to see top attractions in no rush. There are more rainy days towards October and November, so we suggest picking a date starting sometime between May and September.
The winter months are not suggested for land tours in Russia, except if your goal is a frosty vacation with many winter activities in the northernmost parts of Russia. That way you can add fun activities like traditional Russian Troika sled rides.
When To Go To The Golden Ring?


The very peak of the high travel season in Russia is from early May till late September.
Where to stay in the Golden Ring: accommodation peculiarities
Though it is easy to take day-trips from the capital to the Golden Ring towns, you should also consider staying in one of them just to have more time to relax, enjoy nature, and the local atmosphere. You shouldn't expect 5-star hotels in these cities, though, but it doesn't mean that your accommodation won't be comfortable! You will stay in cozy rooms, often decorated with wood and various handicrafts. We advise choosing properties in Suzdal and Yaroslav.
If staying in 5-star hotels is something you extremely enjoy, why not to use this opportunity and stay in centrally located hotels when in Moscow, St.Petersburg, or other bigger cities?
Russia has a really great selection of quality hotels with top service, and we know just the right ones. This way you will have a well-balanced trip.
Why Stay in The Golden Ring Cities?


To have more time to relax, enjoy nature, and the local atmosphere and culture.
Is this tour suitable for everyone?
The Golden Ring tour tour programs are planned in a way to visit all must-see highlights of the region, including numerous locations. It is a perfect experience for those who have already visited the two capitals and now seek more idyllic experiences.
The Russian countryside is a place to go if you seek for a journey outside the hustle of big cities.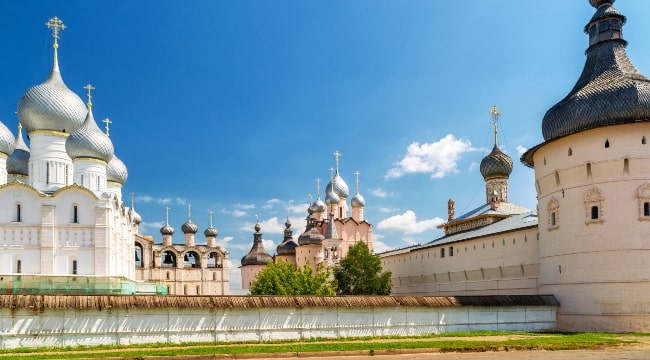 Plus, it's a great choice for first-time travelers too, as the itinerary could be easily combined with Moscow and St. Petersburg. We could even say it is the ultimate tourist trail in Russia.
The Golden Ring will be a real gem to those who are into history and culture, as they will absorb tonnes of it! This enchanting journey to the historical towns is also a wonderful chance to see the traditional way of life in rural Russian towns and indulge in rich traditional cuisine.
The Golden Ring:


Is a real gem to those who are into history and culture, as they will absorb tonnes of it!
To sum it up, the Golden Ring features Russia's oldest towns and comprises a fascinating landscape of culture, history, and traditions. If you want to see the very best of Russia and learn more about its history, we advise adding this route to your Russian travel itinerary.