One of the most treasured parts of any journey is the memories we create while discovering new places, degusting outlandish delights, and delving deeply into new cultures. And of course, souvenirs are among the most popular options to save the happiest moments not only in our hearts but in the form of something more material.
Apart from classic T-shirts and fridge magnets with local attractions, many other wonderful things can perfectly grace your home and always bring to mind the most exciting moments of your travel. To get an idea of what to look for during your unforgettable Russia tour, on this page, you have a great chance to learn more about the untypical Russian souvenirs and create your shopping list in advance!
Best Gifts From Russia: More Than Just Dolls
Matryoshkas & Dymkhovo Toys
Most likely, you've heard about the traditional Russian nesting doll, Matryoshka, which one of the most recognized symbols of the country and a popular Russian souvenir.
Generally, Matryoshka is not just one doll, but a whole set of beautifully painted toys of decreasing sizes one stacked inside another. Surprisingly, the number of hidden figurines can reach even more than 50 toys in a single batch?
What is more, apart from traditional Matryoshkas, in the Russian souvenir shops, you can also buy "modernized" versions of these dolls portraying famous popstars, celebrities, and politicians.
However, in addition to cool nesting dolls, there are other types of Russian dolls that definitely deserve your attention.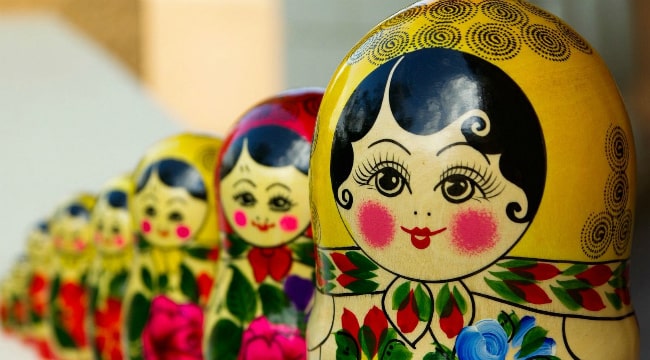 If you're looking for something authentic, you should definitely check out the marvelous clay toys from Dymkhovo. Shockingly, the talented potters of Dymkhovo (now the territory of modern Kirov) have been making these charming toys for 300 years! Did you know that it's impossible to find two absolutely same figurines? The most recognizable feature of the Dymkhovo toys is the unique ornament on each statuette's surface that represents a riot of colors looking especially vivid on a white base. What is more, before final firing and painting, each toy is made individually by hand by molding from clay, explaining a wide diversity of shapes and designs. Often united in various compositions, these lovely toys capture numerous everyday life stories, traditional celebrations, or even depict scenes from Russian fairy tales.
The best Russian souvenirs:
Matryoshka (Nesting doll)
Khokhloma-decorated household items
Gzhel ceramics & Palekh Miniature
Saturated Russian Shawl
Amber Jewelry
Wonders of Russian Extraordinary Painting Art
Khokhloma Crockery
Appeared in the 17th century in the Zavolzhie region, Khokhloma is an old Russian craft of producing ornamental decorations for wooden tableware and furniture made in red and black tones on the golden base.
Keen to unveil the secret of Khokhloma masters? All pieces are first brushed with silver stannic powder and later covered with a special varnish to give them a deep golden color.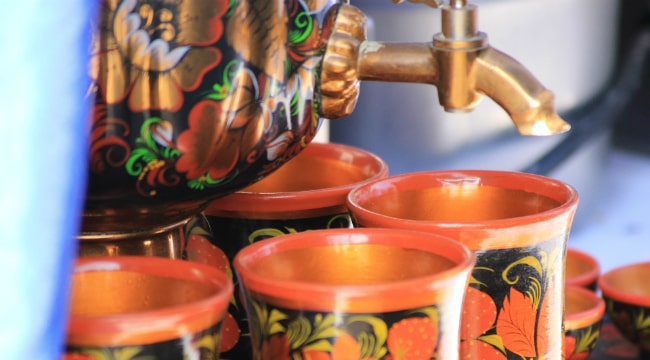 Another peculiarity of Khokhloma is its colorful pattern, which usually consists of juicy red wild strawberries, ash berries, or tree branches that seem to bloom right in front of your eyes. Wooden spoon, plate, or bowl decorated in this fantastic style will surely make an excellent souvenir for your loved ones!
What is Samovar?


Actually, the "device" with the tap illustrated on the photo is called samovar (самовар). In English the closest equivalent would be fire pot or tea urn. This fancy thing was used to make tea. Like a modern tea-kettle but bigger and rounder.
Gzhel Ceramics & Palekh Miniature
If you want something more elegant, there is nothing better than the world-famous Gzhel ceramics. This gorgeous style got its name after the village of Gzhel, where these ornate items have been produced since the beginning of the 19th century.
The Gzhel pieces are created from soft white porcelain, each carefully decorated by hand with a bright blue ornament or flowery pattern. Interestingly, the distinctive azure color of the embellishment appears thanks to adding cobalt to the porcelain.
Since Gzhel ceramics come in various shapes from simple teacups and bowls to fancy clocks and earrings, you can easily choose the perfect present.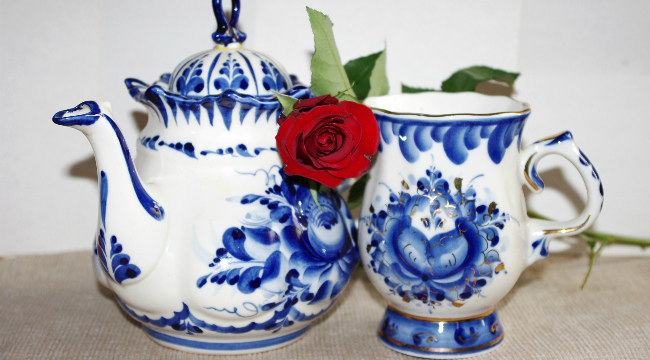 When speaking of the coolest painted souvenirs, it's impossible not to mention the subtle art of the Palekh lacquer miniature. Based on the principles of old Russian folk art, these seemingly glowing illustrations of the poetic world are inspired by Russian historical events, legends, and songs. At first, only icons were created in the Palekh style, but later Palekh miniatures became popular for decorating wooden caskets, boxes, Easter eggs, and tableware. What makes these eye-catching miniatures even more outstanding is the mind-blowing level of detail: one tiny painting usually takes hours to complete!
Unique Details to Brush Up Your Outfit
Pavloposadskie Scarves
All fashion enthusiasts will appreciate one of the richly embellished traditional shawls as a gift from Russia. The unique technique of creating such remarkable patterns in clothing originated in the lovely town of Pavlovsky Posad which is set approximately 68 kilometers (42 miles) from Moscow.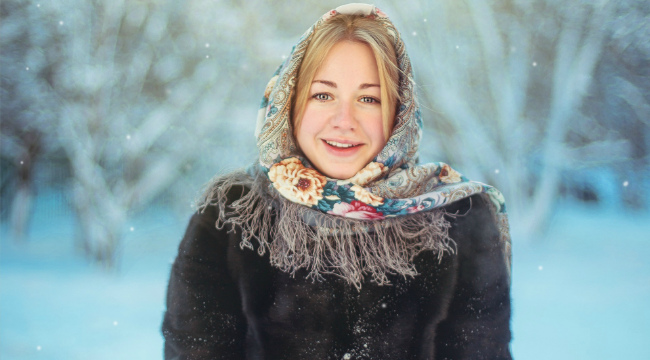 Paying tribute to authentic customs, today, local manufacturers continue scarves production and surprise every guest with an extensive selection of goods with all imaginable color combinations to meet any taste. This exclusive accessory will not only keep you all comfy and cozy during wintertime but will also warm your heart, reminding you of your saturated Russian adventures.
Amber Jewelry
Famous for its magical healing properties, Russian amber is one more unique thing to add to your jewels collection. Being a fossilized tree resing, these "honey" stones come in multiple tints, gradually ranging from deep brown to lemon yellow.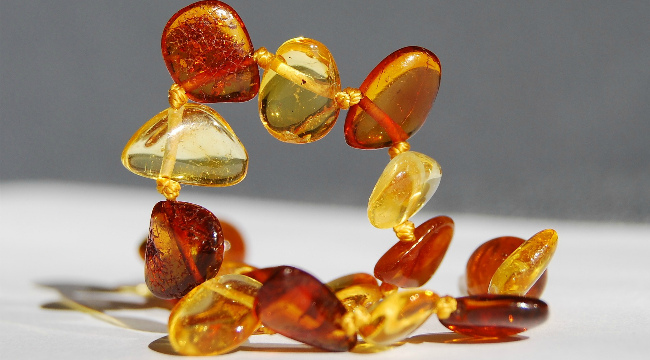 Often prized higher than gemstones in ancient times, amber was commonly used as an adornment for clocks, ashtrays, chess sets, and decorative pictures. If you decide to purchase one of the amber items in Russia, we recommend buying it at legitimate stores to avoid fake copies.
Another proof of Russian's love for amber is the existence of the entire Amber Room. Situated in the Catherine Palace, this hall is covered in amber panels from top to bottom as well as enriched with mirrors and gold leaf highlighting the beauty of this mineral jewel.
Even though our saturated list of the best souvenirs from Russia is coming to an end, shockingly, it embraces only a small part of Russian symbols that can be found throughout this vast country! Eager to learn more about the hidden treasures of the region? Then, don't hesitate to contact our travel specialist who will gladly assist you by planning the itinerary that will show you Russia's impressive diversity at it's best.