Crispy and soft, with fillings and toppings, round, square or heart-shaped, lush or flat - waffle types are just endless. Today, on the 24th of August, all waffle lovers in the USA celebrate the national day dedicated to this sweet dessert admired by millions of people since their childhood.
But what do you know about waffles apart from their amazing taste and nice texture? Are you aware of all types and features of waffles made in different parts of the world? Today is the day to find out more about the history of waffles, to learn some secrets about how to make traditional Russian waffle tubes, and, of course, to add this dessert to your "must-taste" list while you
tour Russia
.
History of Waffles
Waffle history goes so far back that no one can even remember the exact date and place of the grandiose origin of this delicious confectionery product. The real waffle boom started when the waffle maker, invented by an American Cornelius Swarthout, appeared.
On the 24th of August in distant 1869, Swarthout presented his creation to the public and that date marked the beginning of the waffle era.
Some historians assume that the first waffles were baked in the times of Ancient Greeks while other sources indicate the origin of waffles in the 13th century. Some people believe that waffles were invented in Germany, otherwise, there's no specific reason why the dish has a German name.
Moreover, it is considered that in the 15-16th centuries only people of noble birth could afford waffles as this delicacy was very expensive, and its recipe was not disclosed.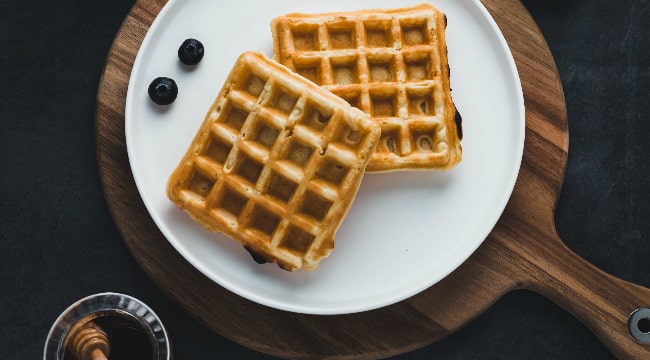 Interesting fact


The word "Waffel" means a "cell" and such an association is pretty understandable as the small grooves on the confectionery are to some point reminiscent of a beehive.
Waffles From Around The World
Fortunately, nowadays everyone can indulge themselves with waffles any time. The only question that arises is which waffles meet your mood today as there are so many types. The range of options is, indeed, diverse, so let's enumerate at least some of the most popular waffle types.
Belgian waffles have a rectangular shape and are usually served with a topping of chocolate, fruit, honey, whipped cream, or simply a dusting of powdered sugar.
Italians call their waffles "pizzelle". Essentially, they are waffle cookies with a light and crispy texture and are flavored with such ingredients as anise, lemon, or vanilla. As a rule, they have a characteristic pattern that reminds a snowflake.
Dutch waffles are known as "stroopwafel". These are thin waffles of round shape with a filling of caramel syrup - very sweet and viscous.
Famous Viennese waffles are lush, soft, and served with a souffle filling as well as with a ball of ice cream or fruit. The traditional form of such waffles is square, but you also can find round-shaped Viennese waffles too.
Unusual bubble waffles originate in Hong Kong and have become an extremely popular street food. Waffle irons, used for cooking these waffles, contain half spheres which give them the characteristic "bubble" look. These waffles can be served with various toppings as well as ice-cream. Some vendors even try to experiment with flavors and invent green tea, ginger, or coconut waffles.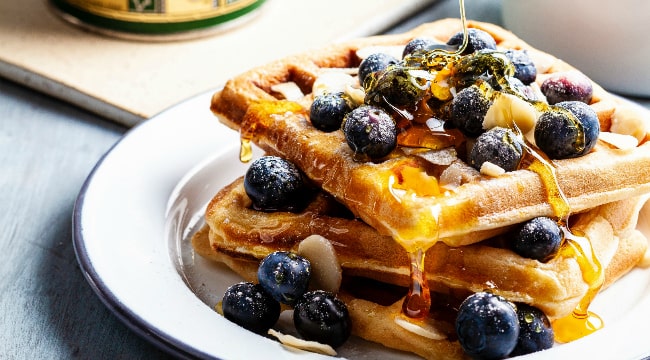 Did you know?


It is believed that American waffles, one of the most popular types in the world, were originally inspired by Belgian ones!
What Russian Waffles Are Like?
Unlike Americans, Belgians, and Austrians who prefer waffles to be soft and squashy, Russians are used to associating this product with something crunchy and crispy, similar to the ones baked for ice-cream cones. Counters of Russian shops are full of various waffles of confectionary factory production. As a rule, they are small rectangles with vanilla, chocolate, lemon, strawberry and other fillings inside.
However, the most popular dessert familiar to every Russian from childhood is crunchy waffle tubes with condensed milk. This simple but extremely delicious sweet definitely deserves close attention.
Of course, you can try these waffle tubes during your Russia tour, but if you are sweet tooth ready for experiments in the kitchen, here is the recipe of this mouthwatering Russian delicacy.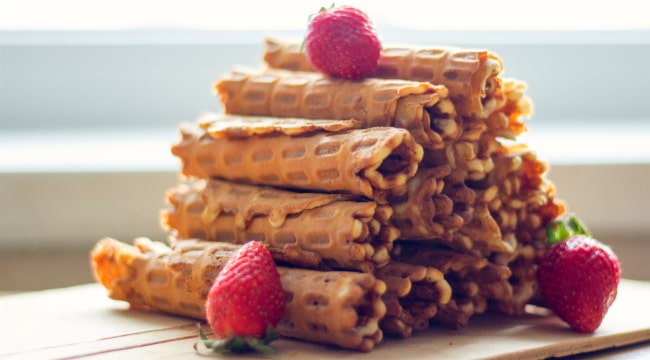 Russian Waffle Tubes (aka Russian Wafer Rolls) Recipe
Melt butter or margarine in a bowl in which all other ingredients will be mixed in later. It is desirable to take a sufficiently spacious bowl so that the dough can then be conveniently beaten.


Add eggs and sugar to the margarine, mix them together well.


Add flour and milk, salt, and baking powder. You may also add vanilla extract if you like. It is important that the consistency of the dough is liquid enough to pour it over the waffle iron. Mix the substance well with a mixer.


Heat the waffle iron and bake each waffle until it is golden brown. (It's advisable to lubricate the heating surfaces with a brush with sunflower oil before baking the first waffle).
Roll the waffles into tubes right after baking them while they're still hot, otherwise, they will harden and begin to crumble. Be careful, they are hot!


Let the waffles cool down and fill them in with boiled condensed milk with a spoon. Some people like to mix the condensed milk with chopped peanuts. The filling can actually be anything to your liking from Nutella to fruit salad.


The amazing delicacy is ready! Bon appetit!


Waffles are a universal delicacy that is enjoyed by lots of people from all over the world and Waffles Day is the best occasion to cook something special. Russian waffle tubes are just perfect for an evening tea party to surprise your family or friends. And do not doubt, these lovely sweet desserts won't disappoint even the most demanding sweet teeth, so we hope that you'll love them as much as we do!
What do you need?
3 eggs
1,5 cups of milk
200 g of margarine or butter
1 cup of sugar
2 cups of flour
pinch of salt
pinch of baking powder
1 can of boiled condensed milk