Russian pies or "pirogi" are probably the most distinctive dish in Russian cuisine. The word "pirogi" itself derives from the Russian word "pir" meaning "feast". Indeed historically, pirogi were a must during any celebration. Today we are going to review the most famous types of Russian pies and learn how to cook them.
1. Coulibiac - a True Masterpiece
Traditional Coulibiac is a fancy savory Russian pie usually made from a brioche or a puff pastry shell and several complex fillings, including white fish, salmon or sturgeon. Modern cuisine also allows meat or vegetarian based fillings.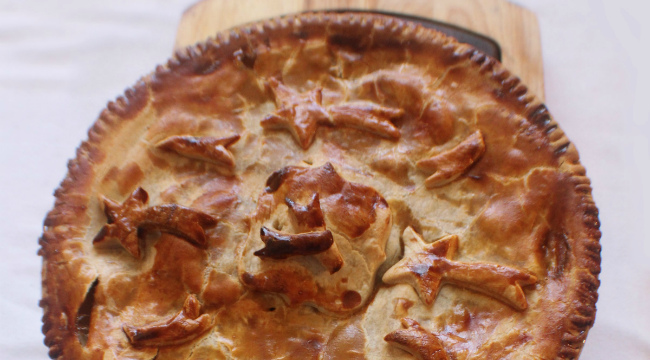 Ideally, the crust should be very thin but strong enough to be able to hold many layers of fillings. The ability to make a dough that can deliver these qualities defines a true master.
Make a Coulibiac yourself at home with this recipe or try it on one of our award-winning tours to Russia.
RECIPE

INGREDIENTS

For the dough:

3 and ⅓ cups wheat flour

1 and ½ packs fresh yeast

1 and ½ cups milk

6 and ½ tbsp butter

1-2 eggs

Salt and sugar to taste

For the fish filling:

1 pound white fish fillet

1 tbs vegetable oil

2 tbs bread crumbs

1 tbs sour cream

⅓ cups milk

1 medium onion

Salt and pepper to taste

For the rice filling:

1 and ¼ cup rice

2 and ½ cups water

1 tbs butter

1 tsp salt

Also:

Egg yolk (for the coating)

Salmon/ sturgeon fillet

 

PREPARATION

1. Prepare sponge dough. In case you don't know how to, here are some brief instructions: soak yeast in warm water or milk (85-95 ˚F), add ⅓ of the flour and stir well till the mixture is smooth. Leave the dough sprinkled with flour to rest in a warm place for 3-4 hours. Keep in mind that the dough will grow 3-4 times so pick the container of a proper size. When the dough is "on the peak of its beauty" (reached its max volume), take it out and pour the remaining milk (lightly salted beforehand). Then add sugar, eggs, flour and knead the dough until it is slightly tacky and doesn't stick to your fingers. Then add butter, and continue kneading until the butter is completely merged with the dough. Leave the dough to rest for 2 more hours. The whole thing will take you about 5 hours!

2. While the dough is resting, cook the rice, let it cool, spread it in the generously buttered form, and bake until golden brown.

3. Mince the white fish fillets together with onions, add a finely chopped egg and the rest of ingredients for the fish filling. Stir well.

4. When the dough is ready, roll it out to get a finger-thick pat. Put layers of the filling one by one on the top of the dough: fish mixture, rice, salmon/ sturgeon fillet, and repeat until all filling is used.

5. Roll up the dough and "close" the pie on the top. Decorate the pie with various shapes made of dough (flowers, leaves, fish, anything that comes to your mind).

6. Leave the Coulibiac to rest for 20 minutes, coat it with the egg yolk and make holes with a fork (quite a few) so that the pie doesn't "explode".

7. Bake at 390-428 ˚F from time to time using a wooden spike to see if it is ready.

Enjoy!
2. Kurnik - a Tsar Pirog
Kurnik is a savory pie that originated in the south of Russia in Cossack communities and was traditionally served on weddings. Unlike any other Russian pie, kurnik is dome-shaped and is usually filled with a chicken or turkey-based mixture, which is suggested by its name ("kuritsa" means "chicken" in Russian).
During a wedding, kurnik was prepared for each of the spouses, the one for the husband was decorated with human figures symbolizing strength, while the one for the wife had floral designs and represented beauty.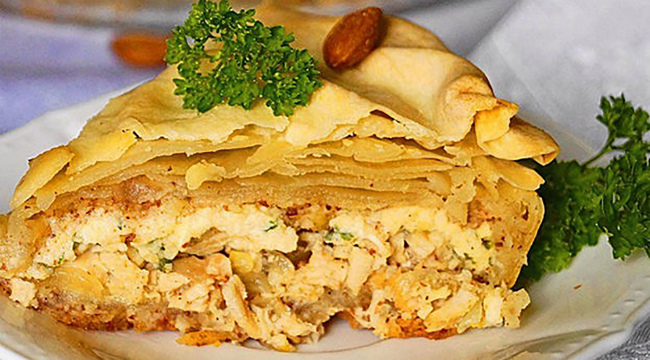 While this pirog was also served at the Tsar's table on special occasions, you can taste it anytime on one of our premium tours to Russia!
3. Rasstegai and Pirozhki
While a traditional pirog requires a lot of time and effort to prepare, and thus is cooked only on special occasions, there are two more casual recipes developed to accommodate a working man's lifestyle.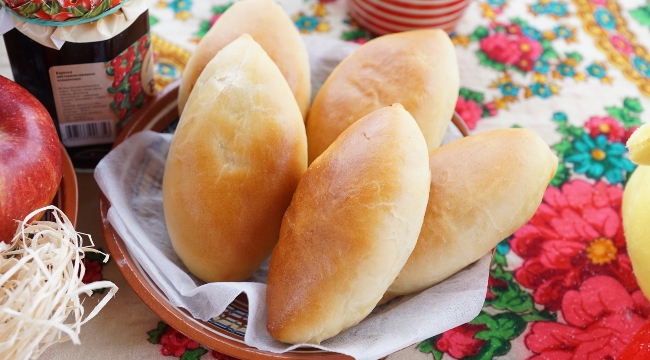 Rasstegai is an individually-sized open pie that is served with traditional Russian soups instead of bread, this way making it a full meal. Depending on the type of soup various pies are served: fish rasstegai for fish broth, meat or mushroom pirog for meat broth, vegetarian pie filled with rice, onion, carrots, and onions is served with a thick fish or meat soup.
Pirozhki, on the other hand, make an independent dish and are mostly served as an appetizer or a dessert if a sweet filling is used. They are the same individually-sized pies as rasstegais, prepared with the same yeast dough but unlike the latter are closed and may include a variety of fillings.
During Soviet times, pirozhki became a popular street food and were sold everywhere from train stations to markets. However, next time you travel to Moscow or St. Petersburg we wouldn't recommend you to buy pirozhki from street vendors, better stop by a nice bakery, or cook them at home using the recipe below. We've got two you can choose from, sweet and savory!
RECIPE

INGREDIENTS

For the dough:

2 cups warm milk

1 tbsp active dry yeast

½ cup sugar, devided

6 cups + 2 tbsp of flour

3 eggs

1 and ½ tbsp melted butter

1 tsp salt

1 egg, beaten for egg wash

For a savory filling (cabbage):

½ medium head cabbage, finely chopped

1 tbsp butter

6 hard-boiled eggs, chopped

Salt and pepper to taste

For a sweet filling:

2 medium apples

¼ cup sugar

 

PREPARATION

1. Pour 2 cups of milk into a bowl, sprinkle with 1 tbsp of yeast, and let it sit for 5-7 minutes. Add 1 cup flour and 1/4 cup sugar. Whisk together until blended and let it rise at room temperature for 30-45 minutes. Add 3 eggs, the remaining 1/4 cup sugar, 1.5 tbsp of butter and 1 tsp of salt. Now either using a dough kneader or your hands knead the dough adding 1 cup flour at a time. Add the last cup half by half to be sure you have the right proportions. You know you've added enough flour when the dough is no longer sticking to your fingers or the walls of the bowl. Keep kneading the dough for about 15 minutes more. Now cover the dough with plastic wrap and let it rest at room temperature for about 2 hours. Alternatively, use an oven preheated to 100 ˚F. In this case, you need just 1 hour. Be ready for the dough to triple in its volume so use a properly sized bowl.

2. While the dough is resting, prepare the filling.

Apple filling:

Saute finely chopped apples with ¼ cup sugar over medium-high heat for 10 min stirring often until most of the juice has evaporated. Set aside to cool.

Cabbage filling:

Heat the pan and add butter. When the butter is melted, add onions and saute for a couple of minutes until the onions are slightly caramelized. Add cabbage, salt, pepper, and cook on a medium-low heat until crisp-tender (about 20 minutes). Remove the cabbage from the pan and let it cool before mixing in the chopped boiled eggs.

3. Take out the dough and cut it into 5 equal pieces. Work with one piece at a time. Roll the dough into 13-14 inch circles, then cut each circle into 8 equal triangles using a pizza cutter. Put about 2 tbsp of the filling in the middle of each triangle and fold them.

4. Now place the pirozhki ½ inch apart in the baking dish (use baking paper for your convenience) and let them sit for about 30-45 minutes at room temperature or 20 minutes in the oven (preheated to 100 ˚F). Once they rise, pirozhki are ready to be baked.

5. Beat one egg and coat the pirozhki with it. Bake at 360˚F for 20 minutes or until the tops are golden brown.

 

Enjoy!
4. Karelian pasty - Karjalanpiirakka
Karelian pasty originates from Karelia - the northern region of Russia, bordering Finland, and is quite different from other Russian pies: unlike them, these pasties are usually made with purely vegetarian fillings and rye crust.
Today Karelian pirogi are also eaten throughout Finland and Estonia and were even granted Traditional Speciality Guaranteed (TSG) status in Europe which means that baked in any other region, the dish cannot be called Karjalanpiirakka, just like champagne!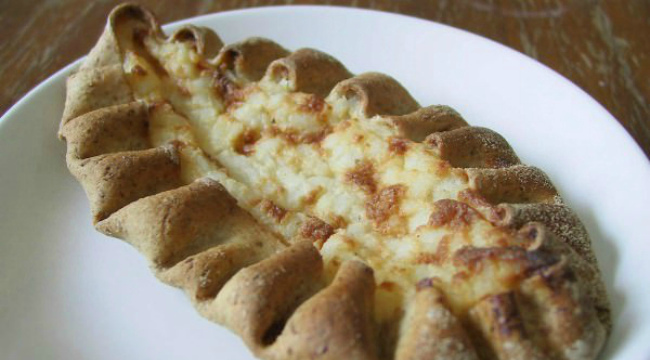 Next time you take a cruise up to Kizhi Island or travel to the north of Russia to see the Northern Lights don't miss it!
5. Vatrushka - a Sweet Treat
Last but not least on our list today is Vatrushka - an individually-sized sweet pastry (pirog) made from sweet yeast bread dough and filled with sweet cottage cheese. Vatrushka is a typical dessert in Russia and is usually served with tea.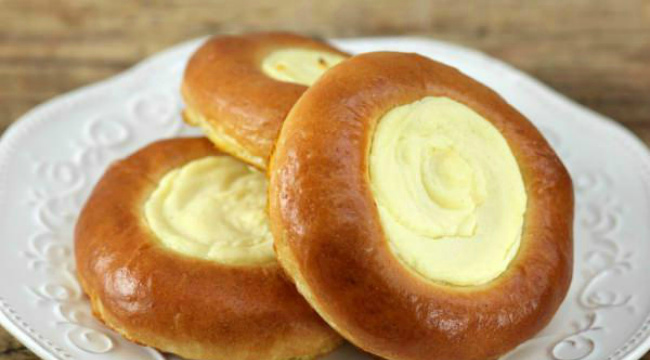 Fun fact: the recipe of Vatrushka stayed the same for centuries and up until today it is an extremely popular pastry that can be easily found on the shelves of any grocery store as well as in fancy bakeries.
Try the best vatrushkas in Russia from Moscow all the way to Vladivostok!
What does Vatrushka mean?


There are three main hypotheses of the word's origin: number of scientists consider that vatrushka derived from the word vatra ("fire") in some Slavic languages. Others trace it back either to the verb teret' ("to rub") or to the word tvorog (творог, "quark").