Golden, round-shaped, sometimes folded, thick or thin with a rich and fluffy texture, sweet or savory toppings...yes, you guessed it right - we are talking about pancakes!
Couple of days ago many countries around the globe have feasted on delicious pancakes in celebration of Shrove Tuesday also known as Pancake Tuesday or Pancake Day. But did you know that Russians are making a second batch of pancake batter as we speak?
Pancake Day in Russia
If you travel to Russia now, you'd be surprised to learn that the Pancake Day here lasts a whole week and is called Maslenitsa. Today, this holiday combines traditions from both pagan and Christian ancestries. During this week, Russians welcome spring and bid farewell to winter by making one of the most popular Russian food - bliny - thin pancakes or crepes, which are made of butter, eggs, and milk.
Maslenitsa also marks the beginning of the fasting period of Lent leading to Easter, so it comes with some diet restrictions for Orthodox Christians. With meat dishes already forbidden, Maslenitsa is the last week when milk, cheese, eggs, and dairy are allowed. Hence, indulging in delicious pancakes seems more than appropriate.
Moreover, during the Great Lenten Fast, Russians try to refrain from partying and other activities that might distract from spiritual life and introspective time. Therefore, they like to spend the last week before the religious period going all out with different festivities each day of the week. Let us talk you through the traditional Maslenitsa schedule.
Interesting fact


Maslenitsa dates back to the 2nd century A.D. and is believed to be the second oldest surviving Slavic holiday!
1. Monday
Monday is called the Welcoming day. Today preparation for the week is finished with the building of ice-hills and seesaws and then participants are invited to assemble Maslenitsa Dolls from straw and woman's clothes.
Once the doll resembles a lady, it's then placed on a pole and carried to the top of a snow hill.
The pancake baking begins. Back in time, only the rich would start making pancakes, whilst the poor could only afford it later in the week.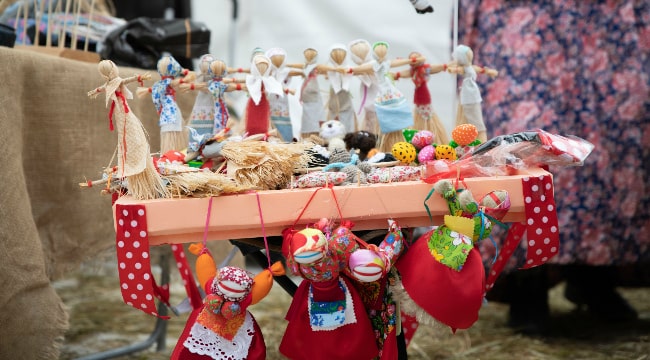 2. Tuesday
Tuesday is a day for Playing. Most of the fun activities of the week happen today.
Youngsters slide down the hills, eat pancakes, and watch Petrushka (hand-puppet) shows in balagan (Rus. for booth or kiosk).
Men would kiss any passing woman on the streets and use sleigh rides to look out for their potential significant others as one of Maslenitsa's aim was to make the matchmaking process easier.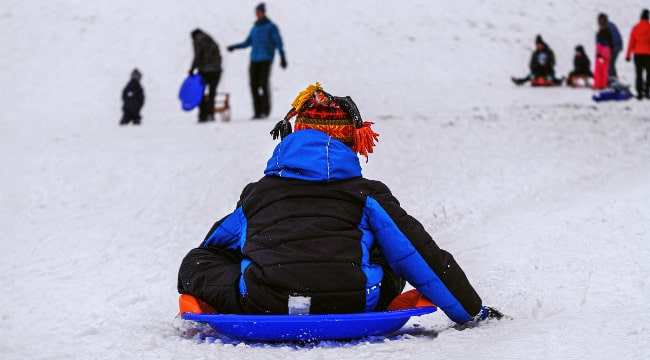 Did you know?


Round-shaped, yellow, and hot, blin is a symbol of the sun. That's why it's the star of the Maslenitsa celebration, commemorating the end of the long cold winter.
3. Wednesday
Wednesday is the Sweet Tooth Day. Russians believe that during this holiday you can as "your stomach would please" or to "have as many servings as many times as a dog would wag its tail." So, forget breakfast and leave some space for more pancakes which today revolves around.
Also, back in the day, sons-in-law would visit their mothers-in-law for a pancake feast and have a family gathering. Sometimes in small villages, these gatherings would turn into "women's rally", where newlywed wives would be tested for their stamina and endurance.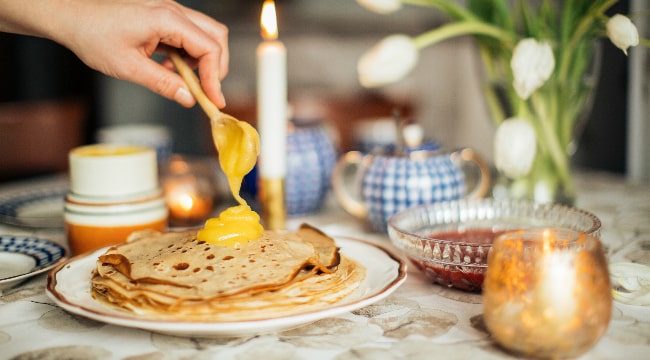 4. Thursday
Thursday is all about the revelry. If you had to work all week, today you're in luck as in Russia people are no longer allowed to work and can fully dedicate their time to celebrating Maslenitsa.
So during Thursday, you see the effigy of Maslenitsa carried everywhere in sleds.
The children are also going from house to house chanting "Ankes-pankes, bake the pancakes" - asking strangers to share their Maslenitsa's delicacies. The tradition was presumably later adopted by Americans as trick-or-treating during Halloween.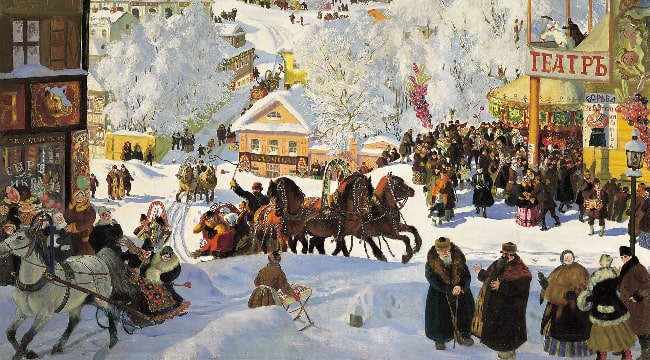 Other Traditional Maslenitsa Dishes:
Vareniki
Draniki
Syrniki
"Brushwood" cookies
5. Friday
Friday is known as Mother-in-law's Eve. Back in time, the son-in-law would have to arrange a special (bliny) party for their wife's mother, to show their love and respect.
The major aspect of the Eve is organizing a delegation to come and collect the mother from her home, the bigger the delegation the greater the honor for the mother-in-law.
Nowadays it is the day for quality time for families, relatives, and close friends.
6. Saturday
Saturday is the opposite of Friday, when a newlywed wife makes effort to please her in-laws by throwing them a gathering with, of course, a pancake feast. Back in the days, it was aimed at strengthening the relationship between the wife and her sister-in-law, as Russians believe it is quite tense at the beginning.
The residents of Saint Petersburg celebrate today at Babushkin Park with folklore performances, games, contests, workshops, and an ice rink joys - to burn the calories from eating too many bliny. Also, a museum at Peterhof welcomes visitors for an informative exhibition about Maslenitsa's history.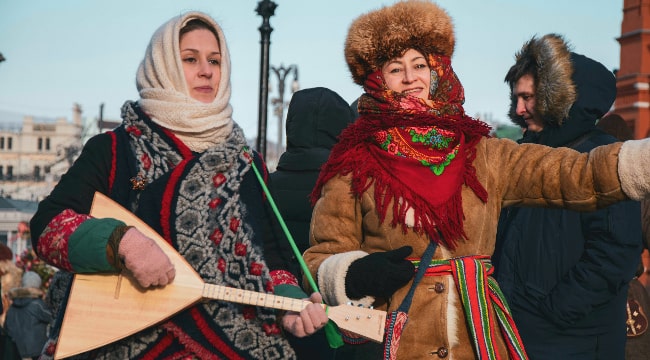 7. Sunday
Sunday is also referred to as Forgiveness Day. As tomorrow marks the beginning of the Great Lent. Russians like to start the religious time with a clean slate and ask for forgiveness for all grievances and troubles. In the evening Russians would visit the graves of their relatives, bidding farewell to the dead.
Also, the Maslenitsa doll is burnt today to mark the ending of festivities. Interestingly, in pagan times instead of an effigy, a real person would be burnt and his ashes would be scattered in fields to assure rich crops. Thankfully, the cruel tradition was banned in the 17th century.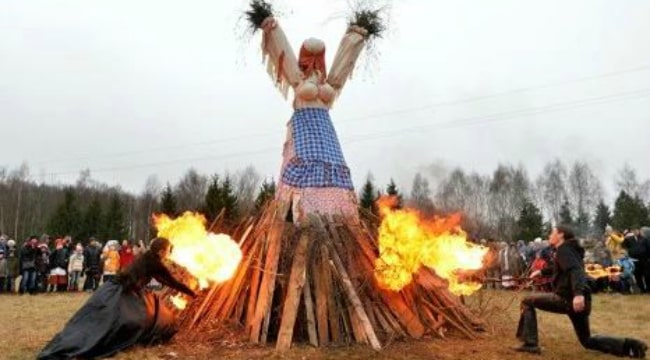 To summarize, the Maslenitsa is not only a week to savor some of the traditional Russian food, but also time dedicated to entertaining festivities and family gatherings. Plan your trip to Russia in February next year and experience Maslenitsa for yourself.
TIP:
As the dates of the Maslenitsa week change every year, it's better to plan your Russian holiday far in advance if you want to participate in the traditional festivities.