Russia is a place worth visiting, not only for iconic sights, natural landscapes and unique culture. Make your tour to Russia tantalizing, toothsome, savory and mouthwatering! We welcome you on a gourmet tour of the best restaurants in Moscow with brilliant chefs:
Sergey Berezutskiy - Twins Restaurant, 13 Malaya Bronnaya str., Moscow
The winner S.Pellegrino Cooking Cup 2014 as World's Best Young Chef, Sergey Berezutskiy now runs a stylish Moscow venue "Twins" together with his brother, Ivan Berezutskiy. The young talent came to prominence in the past couple of years and is recognized today as one of Moscow's most desired chefs. His dishes offer an eclectic mixture of traditional Russian cuisine with the latest trends & unexpected dressings. According to his own words, Sergey loves working with local seasonal products.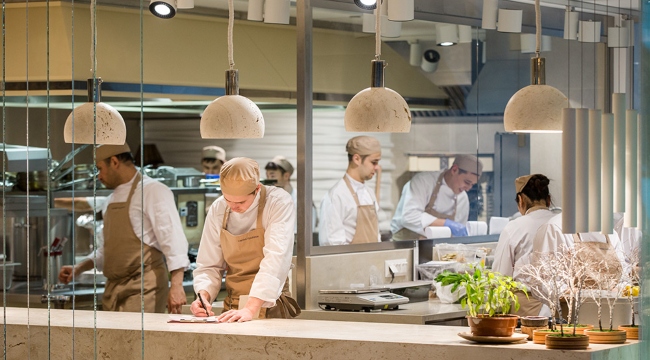 Every dish he cooks has an idea behind it. So, in the end, every guest gets not only a delicious meal but also an extraordinary emotion and memory.
Signature: Sergey loves experimenting with new Russian cuisine, so prepare for something special. How about the mackerel with watermelon, beetroot, risotto, and Chechil cheese? Or maybe langoustines with smoked bark artichokes, zucchini ravioli, tomato consommé & a cold tartar sauce served on a natural birch stump (see picture to the right)? You will remember this meal for years to come!
Sergey's Offering


An eclectic mixture of traditional Russian cuisine with the latest trends & unexpected dressings.
Andrei Makhov - Café Pushkin, 26А Tverskoy Blvd, Moscow
Cafe Pushkin is one of Moscow's legends. Many people believe that it has always been there, but it was opened in 1999, in a Baroque Manson. The restaurant has a beautiful history, which started from the inspiration of Gilbert Becaud's song "Natalie," where he sings about Cafe Pushkin. After this song, many people were looking for Cafe Pushkin, but it hasn't existed yet! Later it was established by Andrei Dellos and described, 'Cafe Pushkin is a place our grandchildren will visit.' The location of Tverskoy Boulevard was chosen on purpose because the street played a significant role in the life of Russian poet Alexander Pushkin. The boulevard was a favorite place among Moscow high society, including Pushkin.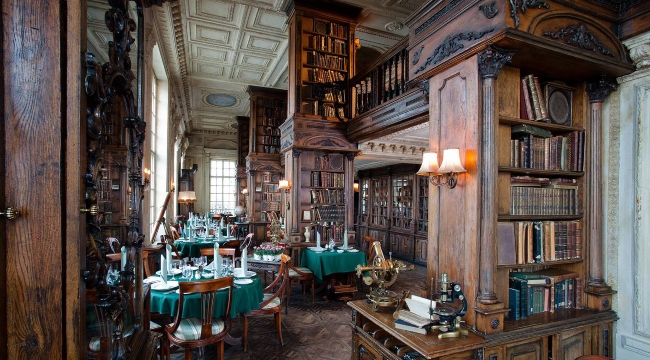 Andrei Makhov is a magician, he is the Resident Head Chef of the cafe since opening. He was also one of the leading creators of the menu, which presents dishes from Pushkin's times, both Russian and French and adapted to modern times.
The Cafe Pushkin has four different halls where you are welcome to enjoy beautiful meals: pharmacy hall, fireplace hall, the library & the mezzanine, and the summer terrace.
Signature: Time traveling to 19th century Russia. Providing a vast number of meal choices, you can choose traditional Russian food from cold appetizers to home-made snacks, an enormous number of meats, seafood dishes, desserts, and mini pies.
The Restaurant Opening


Was inspired by Gilbert Becaud's song "Natalie."
Vladimir Mukhin - White Rabbit Restaurant, 3 Smolenskaya square, Moscow
Ranked 71st out of 100 best world's restaurants according to the authoritative British magazine The Restaurants, the "White Rabbit" is a sophisticated Moscow restaurant specializing in the Russian cuisine. But don't expect to find anything traditional there. Even such an iconic dish as borsch is prepared by its open-minded chef Vladimir Mukhin in a new daring way with fried crucians, baked beans, and turnip crisps. Take your pick from the restaurant's imaginative menu and enjoy your meal while overlooking a bird's eye panorama of the city.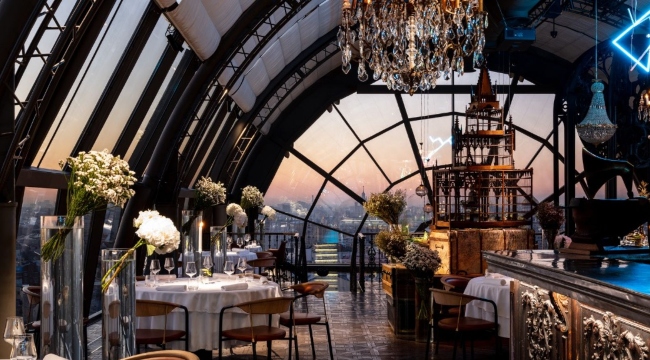 Vladimir is a fifth-generation cook. He started his career at 12 at his father's restaurant. Then were the years of internship in prestige restaurants in Russia, France, Spain, and Japan, the titles of the youngest chef in the Russian Guild of Chefs and the best youngest chef in Russia, a culinary tour in France, and the opening of his own restaurants. Experts admit that Vladimir has his unique gastronomic pattern. He masterfully combines the profound knowledge of Russian cuisine with modern technologies of food processing and is happy to introduce you to a new taste of Russia.
Signature: Modern interpretation of the Russian cuisine. Every season Vladimir comes up with innovative ideas to surprise his guests with new variations of original recipes and unexpected combinations of flavors.
Vladimir Started His Career


At 12 years old at his father's restaurant. Then were the years of internship in prestige restaurants in Russia, France, Spain, and Japan.
Any tour of Russia promises dozens of unforgettable experiences. And if food is your forte, we will be happy to book a table for you in one of this restaurants or plan a theme gourmet tour to Russia.