St. Petersburg is much more than just the second largest city in Russia. It always was and remains a trendsetter in the spheres connected with art, music, theater, literature and all other kinds of self-expression.
No wonder, that the restaurant business is also raised to the form of art here, providing the unique combination of the most innovative ideas and adherence to Russian traditions. We invite you on a gourmet tour around the best St. Petersburg restaurants to make your travel experience spicier and to enjoy a new taste of Russia.
Chekhov Restaurant - Petropavlovskaya str., 4, St. Petersburg
Named as one of the best restaurants in St. Petersburg, Chekhov Restaurant recalls the welcoming 19th-century Russian country house atmosphere. Oak furniture, an array of homemade pickles, an antique gramophone with the soft sound of classical music, a white piano, frayed book covers, the fragrance of sweet homemade liqueur - every little detail contributes to a nostalgic, intimate home spirit of the restaurant.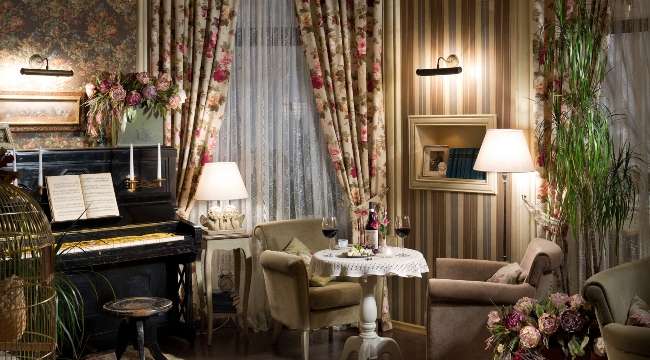 Even the restaurant menu is presented as an old book with descriptions of dishes from the last epoch. If you are keen on classical Russian literature, you shouldn't miss the chance to sink into the atmosphere of Chekhov's works accompanied by classical music while enjoying the finger-licking specialties made of the best farm products.
Signature: All the traditional Old Russian cuisine recipes find their place in Chekhov restaurant. Don't hesitate to taste original fiery red borsch, chicken Kyiv, Russian pelmeni, baked whitefish, and cabbage pies with the sweet scent of homemade cherry Nalivka.
Don't Hesitate to Taste:
Fiery red borsch
Chicken Kyiv
Russian pelmeni
Baked whitefish
Cabbage pies
Romeo's Bar & Kitchen - Rimskogo-Korsakova prospect, 43. St. Petersburg
Located in the most bohemian setting of St. Petersburg close to the world-famous Mariinsky Theater, Romeo's Bar & Kitchen is the best place to go after enjoying your evening opera or ballet performance.
It successfully combines three concepts of an excellent restaurant: a restaurant itself, a pastry, and a bar.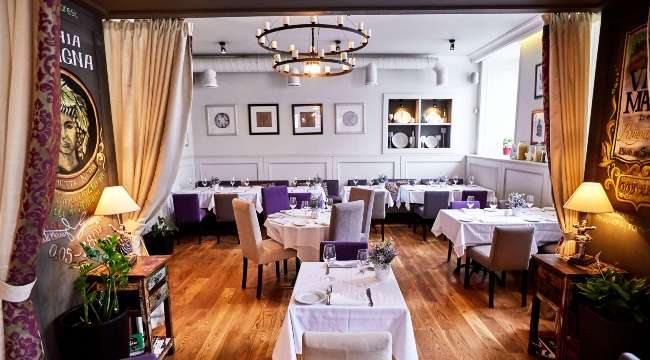 It's the elegant interior, peaceful atmosphere, pleasant background music, and inspiring views from the windows that will detach you from the tiring city din and take you to the realm of savor. An open kitchen where classic Italian, Russian, and Ethnic cuisine are made by experienced chefs is the highlight of the restaurant. Be sure you'll try the most toothsome Italian meal in the entire city!
Signature: Black ravioli filled with salmon mousse or curry sauce, the steamed sea bass with olive oil and cherry tomatoes are the specials of talented Romeo kitchen chefs. Also, being an excellent Italian restaurant, Romeo won't let you resist tasting every piece of its incredible pastry masterpieces including Cannoncino with fresh cream or Napoleon cake.
Don't Hesitate to Taste:
Black ravioli filled with salmon mousse or curry sauce
The steamed sea bass with olive oil and cherry tomatoes
Cannoncino
Napoleon cake
Arka - Bolshaya Konushennaya str., 27, St. Petersburg
A modern sight of old St. Petersburg is revealed under one roof that encompasses a restaurant, bar, and music performance space. Arka is an innovative, vibrant restaurant that combines Scandinavian and loft styles and was nominated for the "Best Public Interior" by Sobaka magazine. As an interior, the restaurant's menu also includes international flavors. The Chef of the restaurant, Eugene Hitrov combined the menu from European courses and dishes based on truly Russian tastes.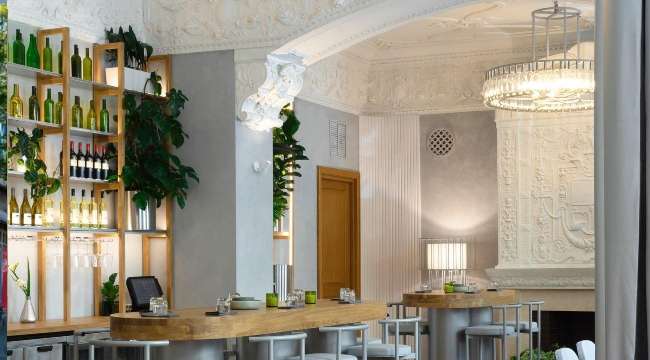 However, it's not only the gourmet cuisine that makes visitors come to this place time and again. The centerpiece of the restaurant, an impressive 13-meter bar offers a variety of exclusive drinks and unusual cocktails that don't leave anyone indifferent. Divided into thematic categories, like "Native Tongue", "History", or "Oriental Studies", the bar menu is a real guide-book of taste representing unexpected mixes and classical recipes taken from different countries and epochs.
Signature: Small skewers - hot snacks, prepared on grill and put on black stone plank-trays. An exclusive drink for impressive and intriguing tastes is a hallmark in Arka Bar. Classical cocktails here could be mixed with absolutely unexpected components: starting from mushrooms, beetroot syrup, and even Borodinsky bread.
For more recommendations on top St. Petersburg restaurants, watch this video:
Don't Hesitate to Taste:
Small skewers prepared on grill
Classical cocktails with absolutely unexpected components
If you would like to visit one of these or any other restaurant in St. Petersburg, we will be happy to book a table for you or plan a special gourmet tour to Russia. Browse our Mouthwatering Guide to Moscow to learn more about the best restaurants of the Russian capital.