Depending on where you are coming from and your travel experience, the expectations of train travel can vary drastically. Most of us have never spent on a train more than a few hours, so can only imagine what it is like to be onboard for a day or two, or seven!
However, those who venture off and take the legendary Trans-Siberian route, usually expect one of the two things: either a highly comfortable journey with a romantic touch, or an adventure requiring excellent survival skills. So which of these corresponds to the reality? Let's find out!
What to expect from your train?
Unlike 30 years ago, modern Russian trains are comfortable, no frills, but comfortable and safe. So you won't have to fight anyone randomly appearing in your compartment, suffer from overheating in summer or freeze to death in winter!
As a rule, all trains operating on the Trans-Siberian route are air-conditioned, feature restaurant cars, and have two attendants per car to take care of the passengers. Restaurant cars offer an extensive menu, including vegetarian options.
The trains do not have shower facilities, only restrooms with small washbasins (2 per car) which is why we recommend breaking your trip into smaller legs and staying in some of the major cities on your way every couple of days during the trip.
NOTE: For our Small group Trans-Siberian tours, we include 1st-class cabins, each for 2 people only. Moreover, they are onboard a private train car which is detached during stops with stays overnight in hotels. The private car is locked, thus travelers keep their large luggage locked on the train and go to the hotel with only small overnight bags.
Trans-Siberian Railway Classes
Now, the compartments. Russian trains usually offer 2 or 3 sleeper classes.
The 3rd class sleepers (if there are) are open-space air-conditioned cars divided into the sections with no doors. Each section includes two upper, two lower, and two additional side berths. The obvious drawback of this option is the lack of privacy which is quite essential when you are traveling long distances.
The 2nd class sleepers are divided into compartments with lockable doors, each fitting up to 4 people.
The interior is simple and includes four berths, a table, a mirror, as well as a panoramic window. The luggage can be conveniently placed under the lower berths. Sometimes a snack is also included in the ticket price.
The 1st class cars consist of the lockable compartments designed for two people only. Two berths, a table, a mirror, and sensible storage space is what you can expect from your compartment. Moreover, the ticket price includes a newspaper and a meal. Regardless of the class you choose, fresh linen is provided.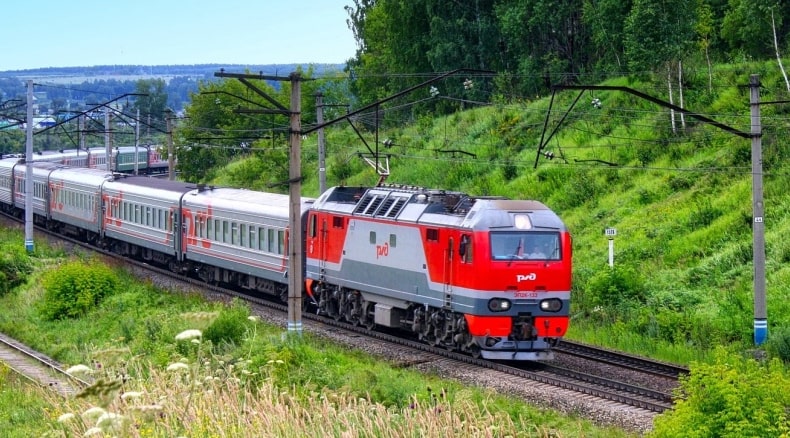 Travel Advice
The one thing you should consider before taking on a Siberian train tour is that the farther you are from Moscow, the fewer people on your way will speak English.
The train attendants are also not likely to be English-speakers. In situations like this, we recommend installing google translator app on your phone, which has a conversation function and can make communication with foreigners easier. Besides, the "Rossiya" train is recognized as a tourist train and employs only English-speaking attendants.
About onboard facilities


As a rule, all trains operating on the Trans-Siberian route are air-conditioned, feature restaurant cars, and have two attendants per car to take care of the passengers. Restaurant cars offer an extensive menu, including vegetarian options.
How long does it take to travel the Trans-Siberian Railway?
If you google "How long does it take to travel from Moscow to Ulan Bator by train," you will get the answer "6 days", which is true. This is exactly what it takes if you board the train and travel for 6 days straight. Until quite recently, trains were the go-to means of transport to travel throughout Russia for Russians. So if you said to a Russian from Siberia that you are taking a Trans-Siberian tour for "the experience," they would think you are bonkers. (But don't worry, all the best people are, according to Lewis Carroll ;))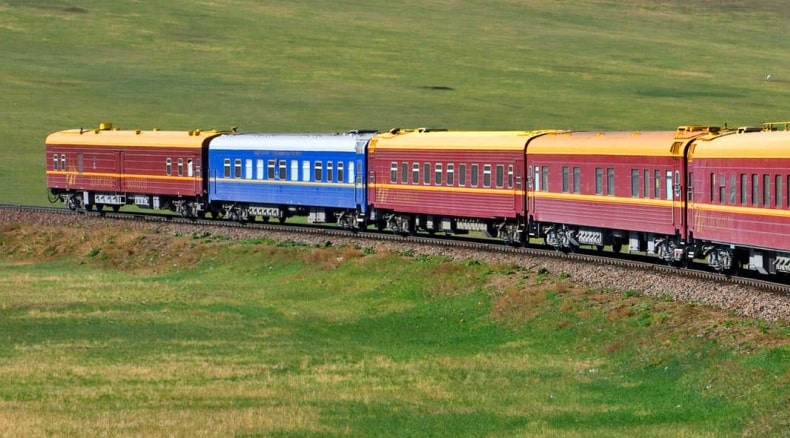 So let's focus on the "experience" you hope to have from this trip. To avoid the exhaustion and "why am I doing that?!" thoughts that may float in your mind, break your journey into a few smaller legs.
Plan smart and make sure you don't spend more than 2 nights onboard (don't forget, there are no showers on a train). During your stops, we recommend staying one to two nights in each place to see real Russia. It's worth your time, trust us on this one!
We have been exploring Trans-Siberian route and building (through trial and error) seamless tours for over 10 years now.
Our Small Group Trans-Siberian tour is an excellent example of a balanced Moscow to Ulan-Bator itinerary, and it is 14 days long, including 3 days of touring Moscow and 4 days in Ulan Bator.
This means that ideally, you should leave 10-11 days purely for taking the train route. According to our many travelers, that way they didn't feel tired and/ or overwhelmed from staying onboard.
TIP:
To take in the beauty of Trans-Siberian route to the fullest, think about arranging at least a 10-day journey.
Overall comfort and safety during the trip
We still have to cover a few points that will help you better understand what to expect on your Trans-Siberian endeavor.
As we determined earlier, you are embarking on a 2 to 3-week tour, which means you will have luggage. So what do you do with it? Do you have to carry it yourself when you board/ get off the train? What if you want to stretch your legs and leave the train for 10 minutes during the stop? Is it safe to leave it?
Don't panic! It is not such big of a deal as it might seem now. We did mention earlier that the compartments provide convenient storage space which is definitely a plus. Yet, unless you are traveling with a small group, you do have to carry your luggage yourself.
Although it might be a bit inconvenient, considering you take different trains on each leg of your journey, as it's every couple of days, it isn't so bad overall!
So what do you do if you want to leave the compartment for some time? At the beginning of the article, we noted that both 1st and 2nd class compartments are lockable.
Normally, you can lock it only from the inside, but an attendant aka "train fairy" can lock it from the outside too. So do not hesitate, and approach her with a smile and your request will be granted. Now you may not worry about the safety of your belongings.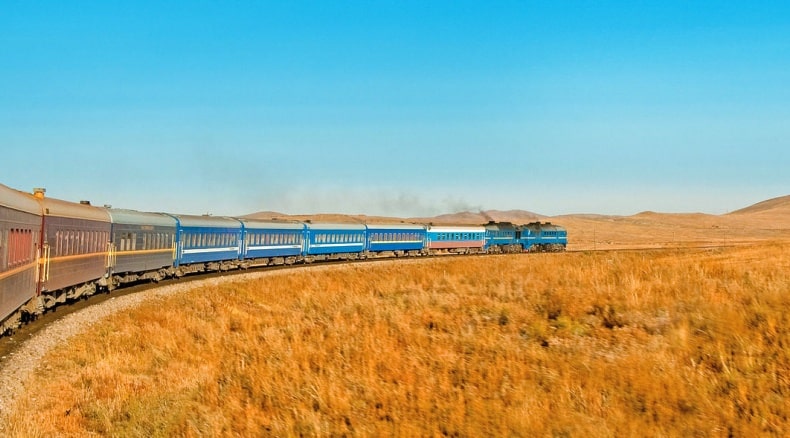 On our small group tours, we make it even easier for travelers and have a private car booked for the whole length of the journey. The carriage is attached to the train that fits our departure schedule and detached when we stay in places for a few days. This means you can keep your luggage onboard all the time and take only your small carry-on to the hotels with you.
That being said, we have to mention the possible issues of getting around and the language barrier. If you travel to Russia and go beyond Moscow or St. Petersburg, you should be ready for people not speaking English. Some of them will, and they are your potential guides on city tours. The good thing is you will help them make good money (in correlation with the local cost of living). The bad thing is you never know who you hire as the standard is based on the knowledge of English rather than what a tour guide should know.
This is why we recommend you discover Siberia with an organized tour. Whether it is a group tour or private, you will certainly benefit from being met at the stations, delivered to the right places, and having quality tours with professional English-speaking guides.
Best places to visit during your trip:
Moscow
Saint Petersburg
Ekaterinburg
Listvyanka Village
Irkutsk
Ulan Bator
Khabarovsk
Ulan-Ude
Kazan
Krasnoyarsk
We hope this information is helpful. In our next article, we will review the cities you would be visiting on your Trans-Siberian tour, what to expect from them, and how to make the most out of your stay.