Are you dreaming about a vacation in Russia? That's a great idea! You just need to decide where you would like to travel and which cities you wish to visit. We always suggest starting in the two gorgeous capitals - Moscow and Saint Petersburg. Where next? We have a list for that!
St. Petersburg
Another city that will welcome sports enthusiasts from all around the globe is the world-famous "Venice of the North" and cultural capital of Russia - St. Petersburg.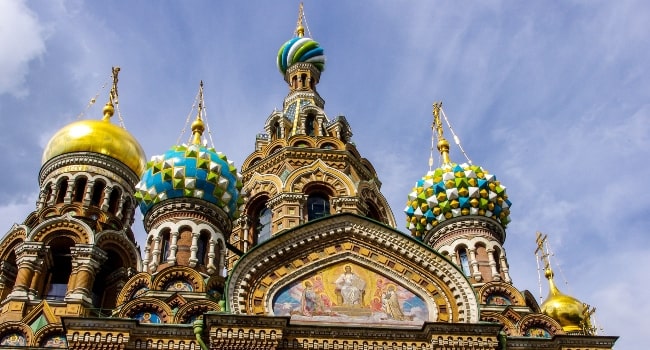 The sightseeing opportunities here are endless: from the romantic canals, the Nevsky Prospect, the Peter and Paul Cathedral, Church of Spilled Blood, St. Isaac's Cathedral and the iconic Hermitage Museum to the treasures located in its outskirts including Peterhof and Catherine's Palace in Tsarskoye Selo in Pushkin. Moreover, St. Petersburg houses top-notch theaters and operas, as such make sure to visit theaters such as the Mariinsky while in Russia.
Quick St. Petersburg Facts
Founded: in 1703
Population: 4.9 million (2012)
Must-visit sights: State Hermitage Museum, Savior on the Spilled Blood, Catherine's Palace


 
Moscow
Without a doubt, the capital of Russia is place that will provide travelers top-notch sightseeing just about around any corner. By all means, the beating heart of Moscow, the Red Square, colorful-domed St. Basil's Cathedral and the mighty red-walled Kremlin cannot but be mentioned among top places to see during your Russia tour.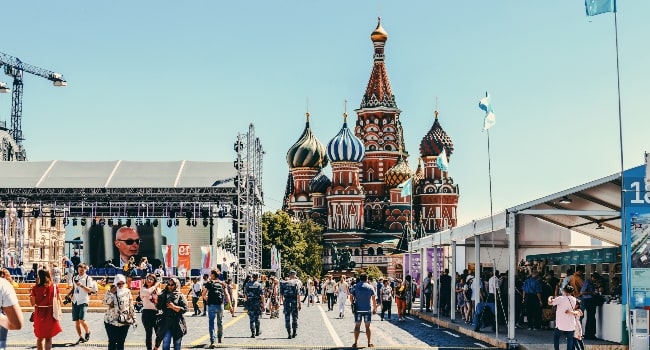 The largest Christian Orthodox Cathedral of Christ the Savior, Sparrow Hills and the Old Arbat Street are worth visiting as well, plus we advise stepping down to see the Moscow Metro, many stations of which are famed for their luxuriant palatial interiors.
Quick Moscow Facts
Founded: in 1147
Population: 11.9 million (2012)
Must-visit sights: The Moscow Kremlin, The Red Square, St. Basil's Cathedral


Nizhny Novgorod
If you will be attending the sports events in Nizhny Novgorod, we recommend not to miss touring the best sights of this picturesque Volga River city. Boasting rich history and scenic hilly surroundings, the Minin and Pozharsky Square and the Pechersky Ascension Monastery are among the points of interest of Nizhny.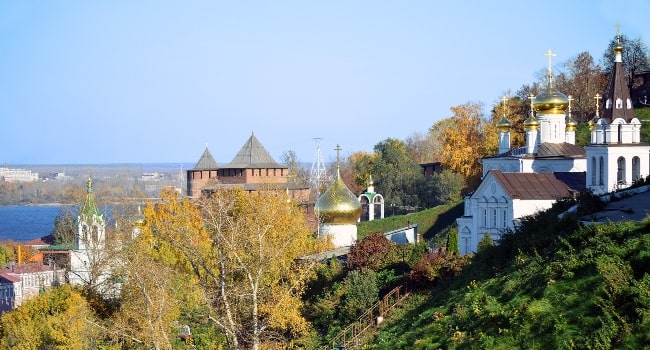 Take a walk along its many pedestrian streets and the Historic Rozhdestevenskaya Street, see what's inside the city's own Kremlin, ride the local tram for a fun experience or enjoy a cruise on the mighty Volga.
Quick Nizhny Novgorod Facts
Founded: in 1221
Population: 1.2 million (2012)
Must-visit sights: Nizhny Novgorod Kremlin, Chkalov Stairs, The Alexander Nevsky Cathedral


Kaliningrad
The FIFA World Cup is indeed a large-scale event, and the easternmost city on the World Cup map of 2018 is Russia's Kaliningrad, situated on the shores of the Baltic Sea between Poland and Lithuania.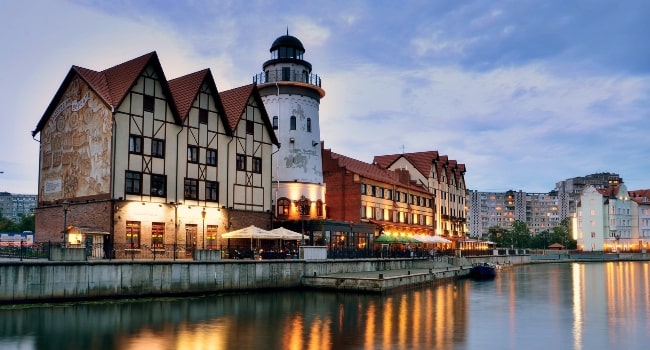 The town has been part of Russia for less than a century and has a lot of German architecture and beautiful sandy beaches.
Because it's often referred to as the "land of amber", we advise bringing souvenirs made of this stone as well as visiting the Konigsberg Cathedral, the Fort 5 defensive fortress, and the Amber Museum.
Quick Kaliningrad Facts
Founded: in 1255
Population: 437,456 (2012)
Must-visit sights: Brandenburg Gate, Amber Museum, Königsberg Cathedral


Saransk
Although Saransk might not be the first city that will pop up in your mind when you think of Russia, it shouldn't be left without your attention. Originally founded as a fortress in the 17th century, it is home to unique Mordovia culture and has much to offer its visitors.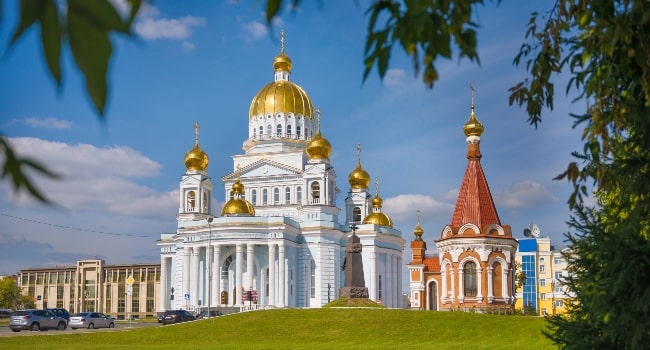 When going sightseeing check out the State Musical Yaushev theatre, the museum of Local Lore and Soviet Square. If you're not too short on time, take a short trip to the Sanaksar Monastery of Feodor Ushakov located nearby.
Quick Saransk Facts
Founded: in 1641
Population: 298,103 (2012)
Must-visit sights: The Cathedral of St. Theodore Ushakov & Mordovian Erzia Museum of Visual Arts


Kazan
Being a melting pot of many religions and Slavic and Tatar culture, undoubtedly, Kazan boasts a unique history, many interesting places to see and things to do in the free time in between soccer matches.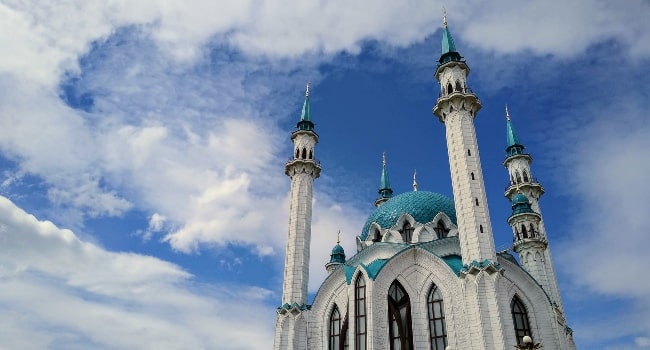 Visit its white-walled Kremlin, holding the stunning blue-domed Qol Sharif Mosque, take a picture with the Dragon Zilant monument for good luck, check out the leaning Soyembika Tower and neighboring Annunciation Cathedral. Also enjoy the truly unique Temple of all Religions and take a stroll in Millennium Park.
Quick Kazan Facts
Founded: in 1005
Population: 1,1 million (2012)
Must-visit sights: Kazan Kremlin, Kul Sharif Mosque, Temple of All Religions


Samara
Samara is another unique city on the shores of the Volga noted for its well-preserved Tsarist architecture. Stalin's Bunker Museum placed deep underground is definitely a must-visit during your stay in Samara.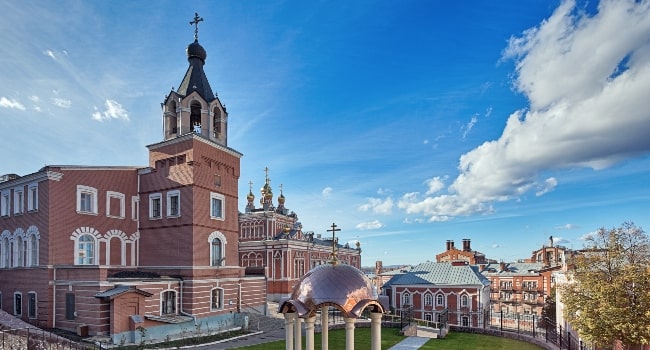 Also, check out the Samara Kosmicheskaya space monument, take a stroll down the river embankment and plus while you're in Samara taste the local Zhigulevskoye beer.
Quick Samara Facts
Founded: in 1586
Population: 1,1 million (2012)
Must-visit sights: Samarskaya Luka National Park, Stalin's Bunker & Iversky Women's Monastery


Ekaterinburg
This one-of-a-kind Russian city is renown for being the place where the Russian Imperial Family spent its last days before the revolution.
The main attractions of Ekaterinburg include Church on Blood, Rastorguev - Haritonov's House and the Monastery Complex Ganina Yama.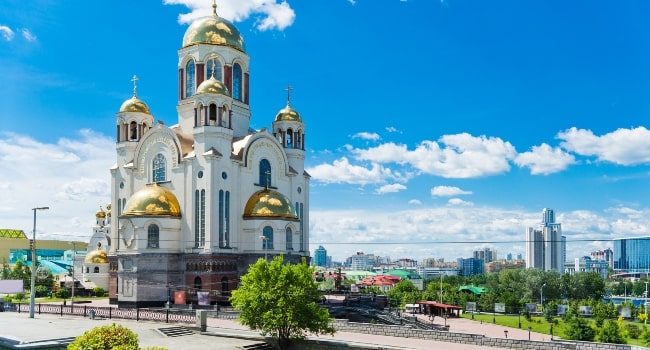 Plus here you can treat yourself to a unique opportunity to stand on two continents at once on the nearby Europe-Asia monument!
Quick Ekaterinburg Facts
Founded: in 1723
Population: 1,3 million (2012)
Must-visit sights: The Church on Blood in Honour of All Saints Resplendent in the Russian Land, Ekaterinburg Central Park & Ganina Yama


 
Volgograd
Also referred to by its previous name Stalingrad, Volgograd is among the most strikingly beautiful cities in Russia with winding canals, hills abundant in greenery and numerous attractions dedicated to the heroism of Soviet people.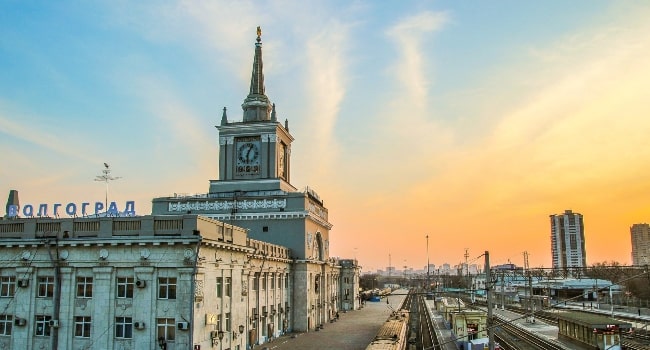 When in Stalingrad go to Mamayev Kurgan hill complex to see its impressive Motherland Calls memorial erected to honor the victory during the Battle of Stalingrad and WWII.
Quick Volgograd Facts
Founded: in 1589
Population: 1 million (2012)
Must-visit sights: Mamayev Kurgan, The Motherland Calls, Pavlov's House
Rostov-on-Don
The southern Russian city Rostov-on-Don has i's own special колорит with numerous mansions, promenades along the Don River, parks and cathedrals.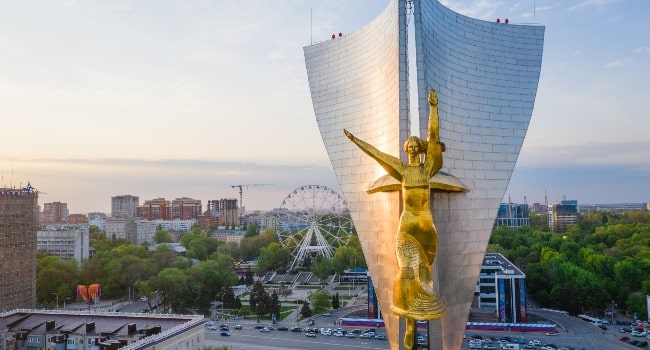 Consider paying a visit to the Armenian Holy Cross Surp Khach church, the museum of retro Steam Locomotives and taking a walk in October Revolution Park.
Quick Rostov-on-Don Facts
Founded: in 1796
Population: 1,1 million (2012)
Must-visit sights: The Cathedral of the Nativity of the Theotokos, Don Embankment, Gorky Park
Sochi
Sun-kissed Sochi is a live city-attraction where there's plenty of excitement!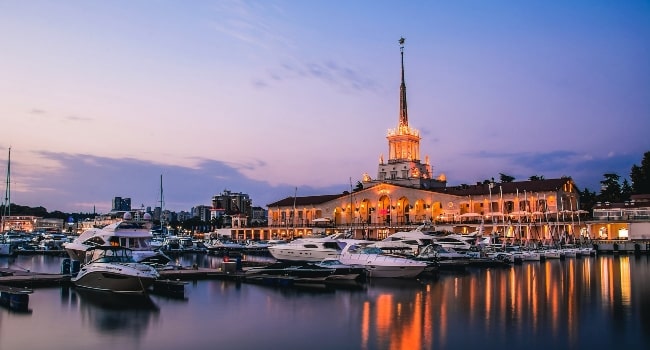 The laid-back location on the Black Sea and the gorgeous mountainous surroundings make Sochi a perfect getaway with palm trees, beaches, cable car rides, the Rosa Khutor Ski Resort as well as Imperial and Stalinist architecture. As such don't miss the Sea Port building, Villa Vera, take a walk in Riviera Park.
There's no end to exploring Russia once you start. Each trip to Russia can be a completely different experience depending on the cities you decide to visit. No matter which Russian destinations have caught your interest, we can create a tailor-made itinerary for you and make sure you see the best of Russia in your own way.
Quick Sochi Facts
Founded: in 1838
Population: 364,171(2012)
Must-visit sights: Sochi National Park, Stalin's summer residence and Marine Station